At times, capacity for final treatment of certain types of waste can be constrained. Further, the government continuously introduces stricter legislations of waste treatment to protect the environment. Collaboration and planning, can help you remain one step ahead. Meet SAR Integrated Operations, a team with passion for systems and structure, enabling effective and predictable operations for our customers.
SAR aims to always be equipped to handle waste from our customers when the need arises. As a customer at SAR, you can be certain that we utilise the best solutions and always adhere to legislations. In other words, we will ensure that waste never is to be experienced as a problem but as a valuable resource.
In our experience, it is important that we, as a supplier, also dare to communicate clear demands to our customers and subcontractors to succeed. By working closely together, we can handle challenges, see new opportunities and produce the best solutions.



The head of the department Integrated Operations Kennet Løland and Planner Alf M. Samuelsen have full control over waste flow and capacity.
SAR Integrated Operations
In order to be better equipped for the capacity challenges today and in the future, SAR has established a department specifically for this purpose. The aim of the department is to ensure optimal planning and waste flow in accordance with the available capacity for reception, logistics and final treatment.

To begin with, the department was run as an operations center, providing support to SAR's internal operational departments. Today, the department also focuses on the collaboration between our external relations, such as customers, subcontractors, partners and downstream solutions (end disposal).

Kenneth Løland is the head of the department and with his passion for sustainability and generating result, he suits the role to a tee. The department has over 50 years of experience collectively at SAR; varying from newly acquired qualifications to seniors with 25 years of experience. The department has quickly established a significant role and acts as a hub - both internally and externally.

The slogan of the department is:
"Structure enables flexibility"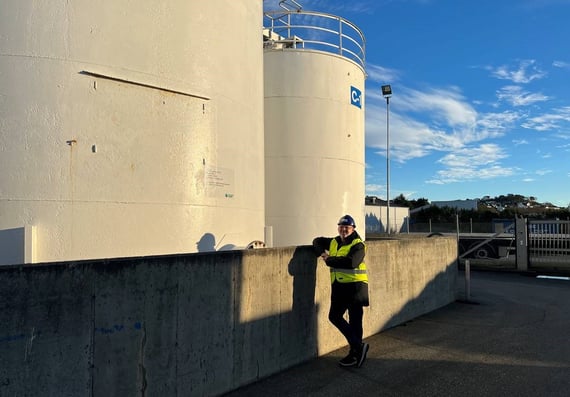 Downstream Manager Eirik Wathne has an extensive experience at SAR. Every day, he works on finding the best downstream solutions, no matter the type of waste.
Internal Collaboration
Our goal is to offer the best and most sustainable solutions as well as ensure our internal processes have fluidity and progress. Hence, we have established several collaboration platforms within different fields and subjects. In addition to the following activities, clarifying roles and responsibilities as well as increase information sharing have proven to be important success factors:
Collaborate on a daily basis
Clarify communication between fields
Good meeting management
Being present and available for each other – both internally and for the customers
Log results/lessons learned to create positive development and improvement – we have a clear ambition to be a leading, learning organisation
Drive forward solutions and decisions through quality data gathered from our new IT-system
Encourage all departments to track/log important data


Contact us if you have resources we can help manage. Together, we find solutions!