On September 20. INDØKS held the largest career day of the year at the University of Stavanger.
Many different companies within technology, finance and management were present to meet and get to know the students.
SAR attended the event represented by three proud ambassadors. Throughout the day they shared information about the exciting opportunities available in SAR.
Many ambitious students showed great interest in SAR, and clearly shared the passion for the environment and sustainable solutions. This really bodes well for future recruitment to an exciting and important industry in continuous development!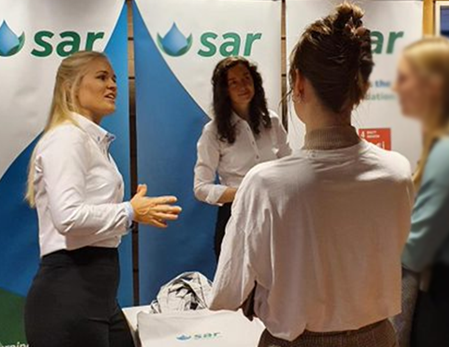 Image: Marthe Axdal and Guro Lunde in conversation with students about working in SAR


For one day three SAR employees
experienced the student life again;
BI Analyst Rouven Uzelmaier talked about his role in SAR and what a great motivation it is to be able to contribute to a more sustainable development.
Rouven "set the course" early in his education and aimed to work with sustainability, "the green transition" and circularity of resources.
Rouven is particularly "hungry for knowledge" and wants to develop his skills and contribute further to the challenges within the field. He gets the opportunity to do just that through his daily work in SAR.
Environmental adviser Marthe Axdal shared with great enthusiasm information about her professional responsibility for hazardous waste. In SAR, she gets the opportunity to work closely with customers and SAR colleagues advising them as they develop their skills.
Marthe is fearless and proactive, and she gladly move outside her comfort zone to learn new skills.
HR Advisor Guro Lunde was of course present, always looking for new colleagues with a heart for sustainability! Guro initiated the participation at the career day, and she is strongly committed to sharing knowledge about SAR as an exciting workplace and meeting new candidates. She also talked about her own education, experience, and the opportunities working at SAR gives.
We hope all the students had a great experience and benefited from the knowledge shared by these talented SAR ambassadors.
SAR wishes the students the best of luck going forward and really looks forward to being able to meet them again as jobseeker candidates!
SAR thanks the University of Stavanger and Indøks for a well-run Career Day!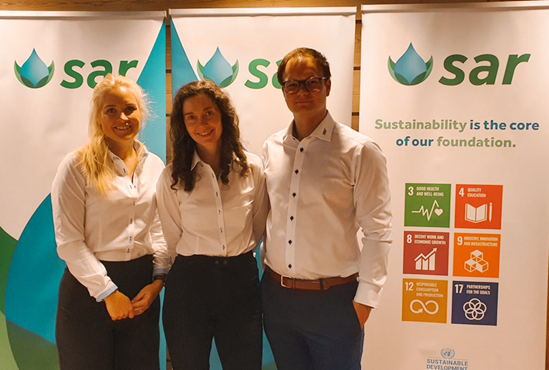 Marthe Axdal, Guro Lunde and Rouven Uzelmaier representing SAR at UIS Career Day.