We want to use this series of articles to present SAR's departments along the coast, from Hammerfest in the north to Stavanger in the south. Through our series, you will get to know our local departments and see how effective collaboration helps our customers create value from their waste. This is article number 4 in this series.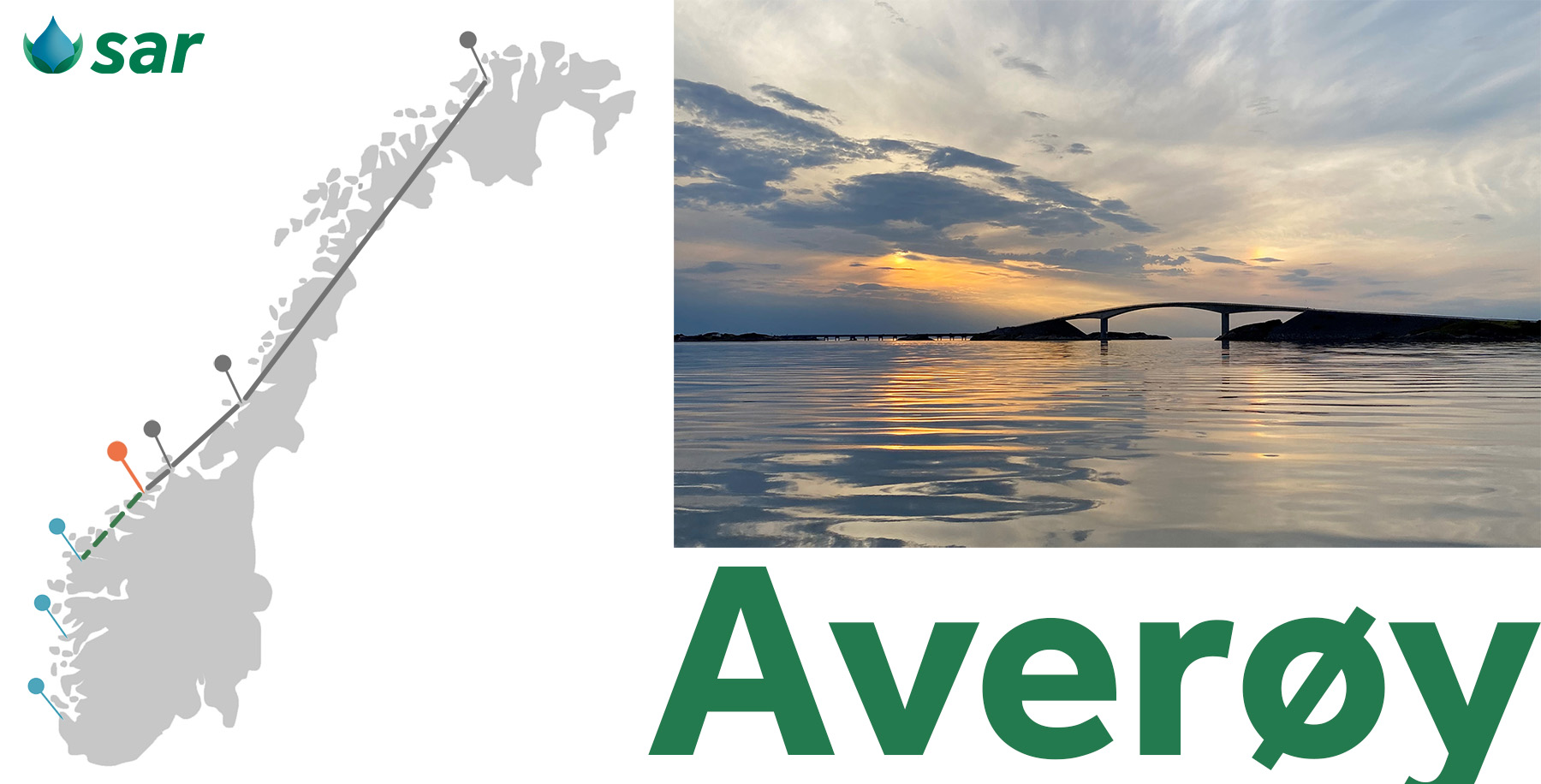 A small place «right in between»
Averøy is a municipality in Nordmøre, Møre and Romsdal, Norway. Surrounded by fjord arms, it consists of several larger and smaller islands facing the Norwegian Sea. To the east, you'll find Kristiansund, which we visited last time, and about a one-hour drive southwest, you'll find Molde.
The SAR facility is located on Averøya, the main island of the municipality, which makes up most of its land area. It is surrounded by several larger and smaller islands locally referred to as "the islands." It's a small place "in between," with just under 6,000 inhabitants.
It's not surprising that fishing and agriculture have traditionally been the most important industries on Averøy, with significant implications for settlement. While much of the industry is still related to fishing, Averøy now has a diverse economy, including several process-based industrial companies, including SAR Averøy Treatment, as well as marine and maritime industries, services, tourism, and culture-based businesses.
With 27 dedicated employees and two apprentices, they currently have a total production of nearly 100,000 tons of slop and sludge each year.
Drill cuttings: Also referred to as "Kaks." Waste consisting of rock formations drilled, contaminated by drilling fluids used in drilling operations. From the cuttings SAR extracts the oilresidues which is later reused.
Slop: A mixture of remnants of drilling fluids, chemicals, flushing water, oil, and more, generated during drilling.
TCC (Thermomechanical Cuttings Cleaner): One of the most commonly used thermal desorption techniques for treating bore cuttings.
WOSS (Water Oil Solid Separation): A process that separates mudslop into water, oil, and solid particles using decanting and separation technology (Decanters and Separators).
Cat.2: Category 2 of flammable liquid. Liquid with a flash point < 23°C and a boiling point > 35°C.
Innovative location
Today, SAR Averøy is one of the larger facilities in Norway with permission to handle and store flammable liquids (Cat. 2) from drilling operations. The slop water is there prepared for transport to other treatment facilities in Norway and Europe.
There's a "good mix" in both age and professional backgrounds among the employees, and you can easily sense the positive atmosphere that we're starting to recognize at SAR. Employees often work across departments, creating a varied workday and a well-coordinated interaction throughout the location. It's not uncommon for employees to stay with SAR for many years, often 10 or more, often in different roles. The rotation and development always has keeping- and passing on essential knowledge, needed to keep logistics and machinery running efficiently, in mind.
This SAR location has a long history and has been a pioneer and platform for the development of solutions that are often taken for granted today. In May, we congratulated Frank on his 20 years at SAR, who played a significant role in initiating the establishment of the sludge treatment plant in Averøy. Alongside Hans Magne Hestvik, now VP Treatment Operations at SAR Averøy, they were involved in starting the work for safe waste management that SAR continues to uphold.
SAR Averøy – A pioneering location
The department began with a mobile outdoor thermal drill cuttings/waste facility called Porcupine. In fact, it was Norway's first drilling waste facility at the time. When SAR Deconterra merged with SAR AS in 2007, an indoor slop treatment facility was acquired, where additional capacity was built with storage bins and tank facilities. This facility was further developed to treat slop in a better and more efficient way, which is today SAR's WOSS process (Water Oil Solid Separation).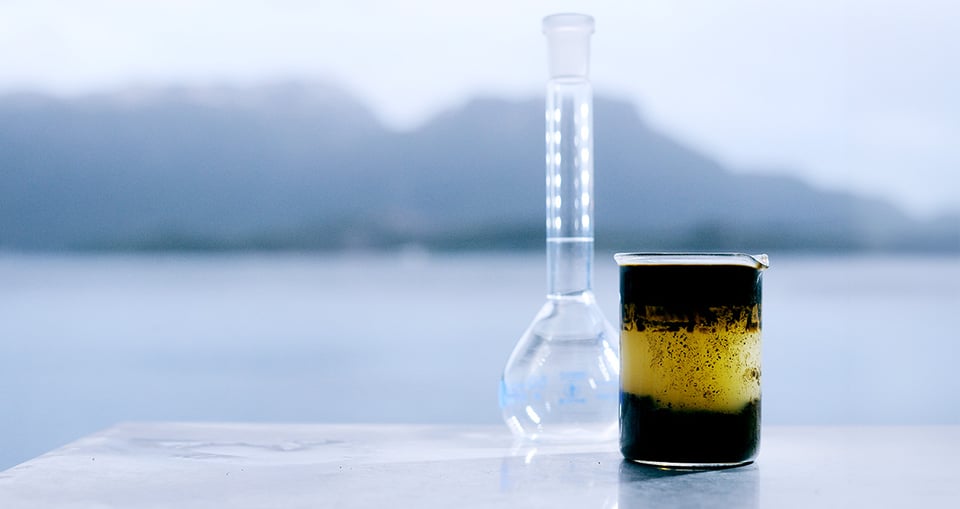 TCC treatment of drill cuttings was established with a mobile unit in 2010. Then, in 2013, SAR acquired a stationary TCC unit and built a processing hall for it. At the same time, the mobile unit was relocated to Sandnessjøen, which we have visited earlier in the series. A new administrative building and tank facility equipped for the storage of Category 2 flammable liquids were also set up. As you may recall from earlier in the series, 2013 was a very significant year for SAR.
Specialized process department
Since SAR Averøy was established, both minor and major tests have been conducted to optimize both the WOSS and TCC processes to what they are today. SAR Averøy has specialized in the treatment and storage of drilling waste.
This is a modern facility where you can find a lot of exciting technology from the industry. Processing slop water is not a simple process where you just press a button and "let the machine do its thing." Parameters such as composition, temperature, and pressure must be continuously adjusted throughout the entire process and for each delivery.
Some may be surprised by the amount of analysis and science that goes into the sustainable treatment of waste.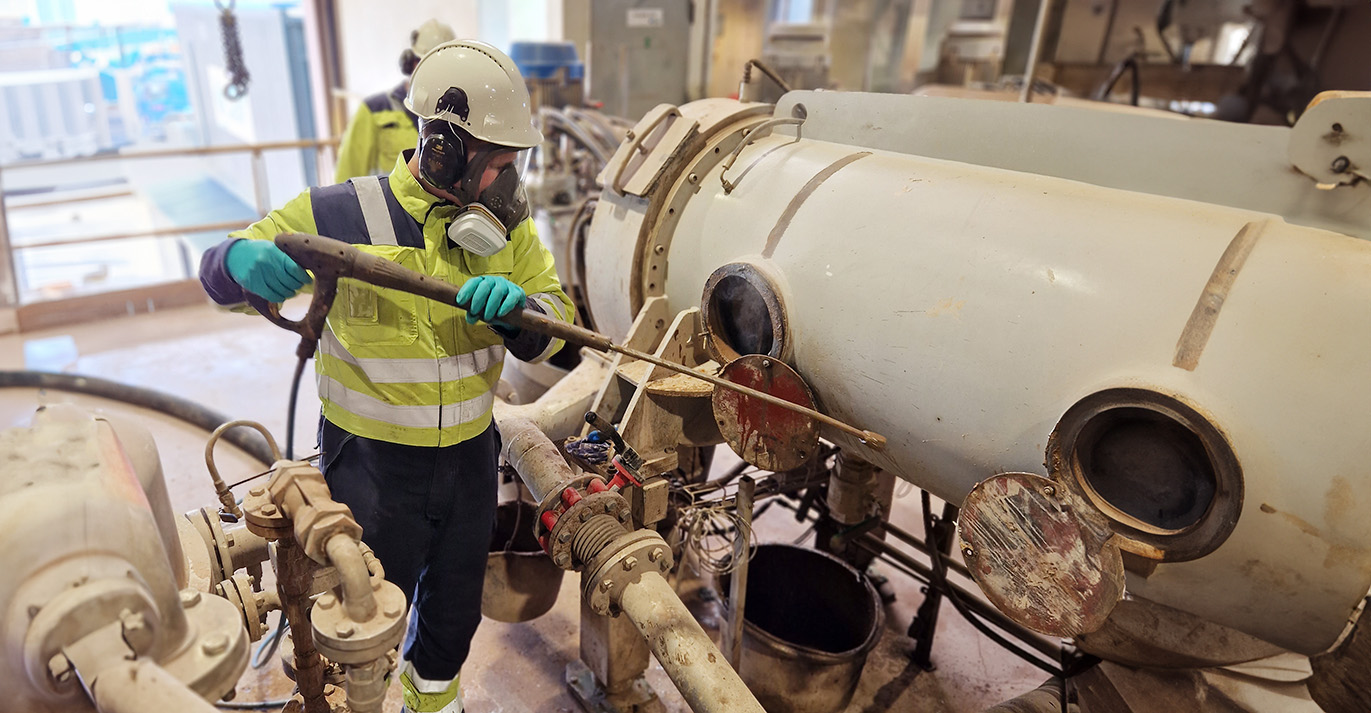 William Walter, an apprentice at SAR Averøy, performs weekly preventive maintenance on decanters, a part of the WOSS process for slop.
Transferring experience and knowledge
SAR Averøy places significant emphasis on taking in apprentices. In responsible industrial-level waste management, there is much that cannot be learned in the classroom, especially since methods and procedures are constantly evolving. Many of the employees have backgrounds in chemistry and processes, which are valuable for the theoretical aspects, but practical experience is required. Getting one's hands and work clothes a bit dirty, is often important to understand the various processes and how they are interconnected. Lasse Strupstad Høvik has been with SAR for more than 10 years, in both operational and administrative roles. He mentions that one never truly stops learning, as new knowledge is central to both treatment and changing regulations.
"It's important to understand the rationale behind the extensive regulations we have in place to protect the environment and surroundings." - Lasse Strupstad Høvik, Operations Manager TCC.
From the control room's screens, operator Gina Bogen closely monitors and makes necessary adjustments as needed.
Ensuring Capacity
At Averøy, production runs around the clock, with shift rotations. Unlike most other SAR locations, which often receive waste from local businesses outside the offshore industry, SAR Averøy is an internal process department. Most of their waste comes from other SAR locations. Isak Skarvøy, operator and tank manager, regularly communicates with other SAR locations regarding chemical analyses and waste reception. They play an incredibly important role in the overall capacity of the SAR Group.
One crucial factor here is good communication and cooperation with customers. Given the capacity challenges in the market, customer forecasting is becoming increasingly important. To ensure smooth operations and robust treatment processes, it is vital to have a well-defined process and plan throughout the production chain.
Long history
Before the Atlantic Ocean Road (Atlanterhavsveien) was established in 1989, ferries were the only way to reach Averøy municipality. The Atlantic Ocean Road was long the only mainland connection to the south, towards Eide. The road is built over several islands and bridges and has been named the Construction of the Century in Norway and is a National Tourist Route. Later, in 2009, the Atlantic Ocean Tunnel (Atlanterhavstunnelen) was built.
Fishing and agriculture have been the primary industries on Averøy, with significant implications for settlement. In aquaculture, there has been a predominant focus on coastal fishing. Several places in the municipality served as important fishing ports for many centuries. Throughout the 20th century, Averøy was home to several significant fishing boat companies and fish processing businesses. In the 1800s, there was also copper mining in several mines on the island. Today, you can find a diverse economy with several process-based industrial companies, marine and maritime industries, services, tourism, and culture-based businesses in the area.
A Norway in miniature
You can find most of the natural surroundings on these islands. Gina Bogen, operator at TCC, calls it "a little miniature Norway." Here, you have fjords, mountains, the sea, forests, lakes, and fields—everythingof the best of Norway's nature has to offer, depending on the season.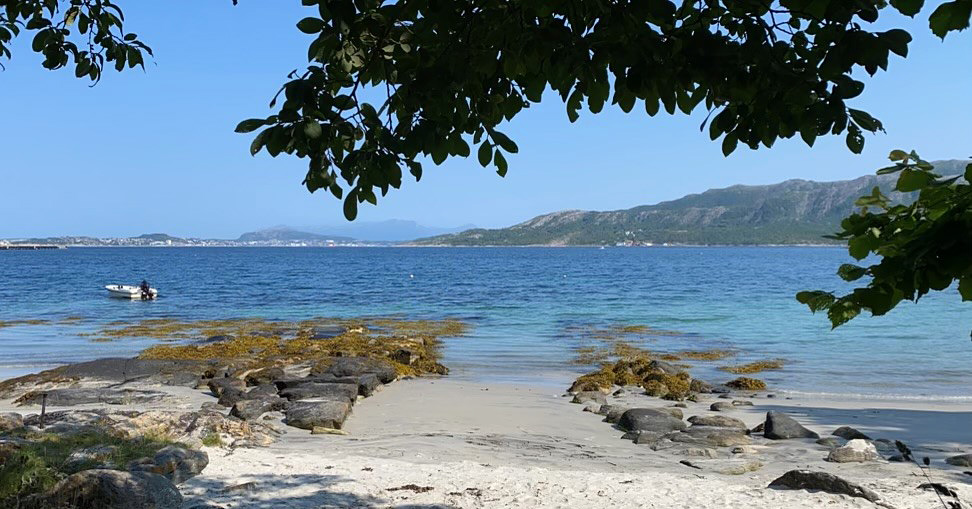 SAR – green waste solutions based on cooperation
At SAR, we are proud of the responsibility we have for our customers, the local community, and our partners. We hope that our travel blog has provided some extra insight into our operations at SAR Averøy.
New and existing customers are welcome to contact us if you have any questions or wish to use our services.
Together, we will find the best solutions: Greener and Safer!
The previous stop on our journey was Kristiansund. Next time, we're heading to Florø, so sign up for our newsletter to catch our entire journey.